Times Square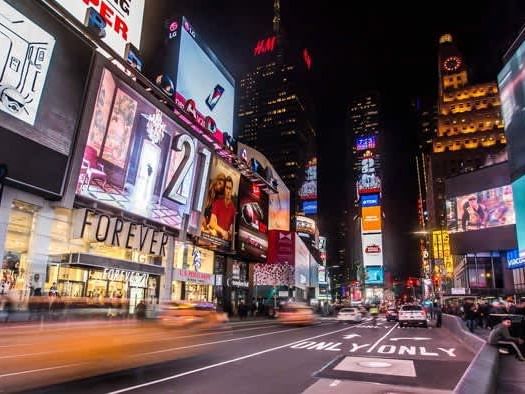 Discover Electrifying Things to Do in Times Square
Stand in Times Square and you'll feel like you're in the center of the universe. Soak up the incredible energy and be wowed by the bright lights - and then get ready to have some serious fun. Grab tickets for a blockbuster Broadway musical or explore oddball attractions like Gulliver's Gate, Madame Tussauds, and Ripley's Believe It or Not. Sip cocktails at a rooftop bar overlooking the creative chaos below. Catch a movie at an enormous cinema. Watch street performers and have your picture drawn by a caricature artist. Go shopping at trendy boutiques and drool-worthy candy stores. Snap a selfie and then put your phone down and people-watch - it's better here than almost anywhere in the city! Visit Times Square and put yourself in the pulsing, glowing, thrilling heart of New York.

Details
Prices - Per attraction
Hours - Vary by venue
Events
New Year's Eve
Taste of Times Square
Love in Times Square
Activities
Broadway Shows
Sensational Shopping
Rooftop Bars
Hop-On Hop-Off Tours
Public Artwork
Quirky Museums
Before You Go
FAQs
What is there to do in Times Square?
The most popular things to do and places to see in Times Square include Madame Tussauds Wax Museum, Rockefeller Center tours, NFL Experience, Gulliver's Gate miniature museum, Ripley's Believe It or Not, National Geographic Encounter: Ocean Odyssey, The RIDE, and Hop-on, Hop-off Sightseeing Tours.
Is it free to go to Times Square for New Years?
The world-famous New Year's Eve party in Times Square is free and open to everyone on a first come, first served basis. To get the best view of the Ball Drop, you'll need to arrive in the early afternoon on December 31 or before. Many spots will be full by late afternoon.

Helpful Links
Manhattan, NY 10036, USA 10036 New York United States